SPONSORS
We are looking for local businesses to form long-term, mutually beneficial relationships with, in an effort to acquire the annual operating funds necessary to unite the community through our event. Although the success of The Big Event Tallahassee is driven by student volunteers, we do require funds in the amount of $15,000. This budget accounts for event day rental costs, items used to recruit volunteers, and resources used to connect with community members.


One of our greatest assets as a student organization lies in our ability to publicize ourselves and our partners using a wide array of channels. Through our presence on social media networks, we are able to engage our 3,000 combined followers and reach hundreds more through marketing campaigns. Additionally, through our partnerships with Florida State University, Florida A&M University, and Tallahassee Community College, we are able to reach over 50,000 students, faculty, and staff. Our target audience includes students and faculty; as well as partnerships with local media outlets such as ABC, CBS, and NPR allow us to spread our message.
Your generosity will enable us to ensure that The Big Event becomes a sustainable, yearly impact in the community. Let's build a long-term relationship between your business and our organization that promotes community unity and creates positive change in Tallahassee.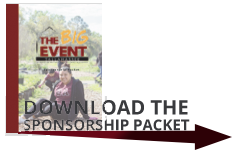 Contact our Sponsorship Coordinator, Katie Miller, for more information on how you can get involved and make a difference in our community. Katie Miller, Sponsorship Coordinator. thebigevent.sponsorship@gmail.com, (850) 363-0885
2019 SPONSORS