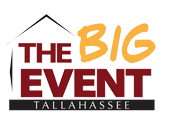 The Big Event is one of the largest, one-day, student-run service projects in the nation where the students of colleges and universities will come together to say 'thank you' to the residents of their college town. A tradition started at Texas A&M University 28 years ago, The Big Event serves as the official community service event for the Florida State University Student Government. Students, faculty, and staff participate in this annual event to show their appreciation to the surrounding community by completing service projects such as yard work, window washing, and painting for community members. Although The Big Event has become one of the largest one-day, student-run service projects in the nation, our message and our mission is simply to say "thank you."

Mission Statement

Through service-oriented activities, The BIG Event promotes campus and community unity as students, faculty, and staff come together for one day to express their gratitude for the support from the surrounding community. 

Core Values

The Big Event strives to embody the ideals of unity and service. This one-day event is not based on socioeconomic need, but rather a way for the student body to join with faculty and staff and express their gratitude to the entire community which supports Florida State University. It is important to remember The BIG Event is not about the number of jobs completed or the number of students who participate each year. Instead, it is the interaction between the Florida State University community and Tallahassee residents and the unity that results throughout the community that makes The BIG Event such a unique project.

For Community Residents:

"Throughout the years, the city of Tallahassee has shown endless support to the students of the Florida State University. For this reason, The Big Event strives to reciprocate that appreciation to all residents. In doing so, students, faculty, staff, and alumni from Florida State University will spend one Saturday performing various service projects all across the Tallahassee community. These projects span from early morning to mid afternoon and could include anything from window washing, yard work, interior/exterior painting, tutoring children, picking up trash, and much more."